Self-Publishing Books
 Book production, design and project management.
(please scroll down to view all the books)
I have recently starting publishing books for the Indie Publishing (self-publishing) market. Finding Los Olivos was my first project, it was a bit daunting so we hired Erick & Jennifer Wand at Graphics by Erick to take over the complex project, I acted as the project manager. I soon dove into my first book project Attempting Flight. The cost of producing a book depends on the number of pages, the number of illustrations, whether it is prose or poetry. If you have a book you have been wanting to self-publish please track me down for a free hour consultation so you can get your bearing…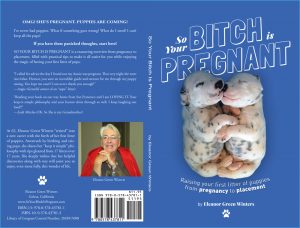 So Your Bitch Is Pregnant
by Eleanor Green Winters
I produced this book. Back cover design by Bo von Hohenlohe, front cover design by Jeff Borden.
Now available on Amazon Books.
OMG! SHE'S PREGNANT. PUPPIES ARE COMING!
I've never had puppies. What if something goes wrong? What do I need? I can't keep all the pups!
If you have these panicked thoughts, start here!
SO YOUR BITCH IS PREGNANT is a reassuring overview from pregnancy to placement, filled with practical tips to make it all easier for you while enjoying the magic of having your first litter of pups.
"I called for advice the day I found out my Aussie was pregnant. That very night she went into labor. Eleanor, you were an incredible guide and mentor for me through my puppy raising. You kept me sane!! I can never thank you enough!"
—Angie (Grateful owner of an "oops" litter)
"Reading your book on our way home from San Francisco and I am LOVING IT. Your keep-it-simple philosophy and your humor shine through so well. I keep laughing out loud!!"
—Leah Mireles (Ok. So She is my Grandmother)
• • •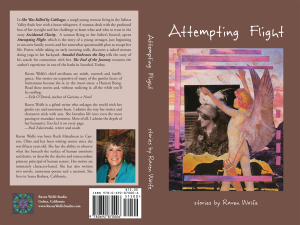 Attempting Flight
by Raven Wolfe
I produced this book. Book cover design and layout co-designed by Bo von Hohenlohe & Raven Wolfe.
Now available on CreateSpace Book Store and Amazon Books.
•In She Was Killed by Cabbages, a tough young woman living in the Salinas Valley finds love with a horse whisperer.
•A woman deals with the profound loss of her eyesight and her attempt to learn what and who to trust in the story Accidental Clarity.
•Attempting Flight begins with a woman flying to her father's funeral. It is the story of a young teenager, just beginning to uncover family secrets and her somewhat questionable attempt to escape her life.
•Porter, while taking an early morning walk, discovers a naked woman doing yoga in her backyard. Annabel Embraces the Day, tells the story of his search for connection with her.
•The End of the Journey recounts the author's experience in one of the baths in Istanbul.
• • •