Self Publishing Books
 Book production, design and project management.
I have recently starting publishing books for the Indie Publishing (self publishing) market. Finding Los Olivos was my first project, it was a bit daunting for my first book so we hired Erick & Jennifer Wand at Graphics by Erick to take over the very complex project. Next I took on Raven Wolfe's collection of short stories called Attempting Flight, we are on the final (I hope) proof, next to build out the cover and upload the PDF file to Amazon CreateSpace. I am also nearing the end of Daphne Rose Kingma's collection of poems called Warrior / Queen, we had already received a proof from CreateSpace but there was some problems with the font quality, hopefully we solved that problem. If you have a book you have been wanting to self publish please contact me for a hour consultation gratis…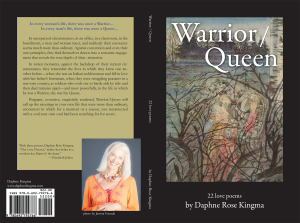 Warrior / Queen
by Daphne Rose Kingma
I produced this book. Book cover design & layout co-designed by Bo von Hohenlohe & Daphne Rose Kingma.
Now available on CreateSpace Book Store and Amazon Books.
In unexpected circumstances, in an office, in a classroom, in the boardroom, a man and woman meet, and suddenly their encounter seems much more than ordinary. Against convention and even their own principles, they find themselves drawn into a romantic engagement that reveals the true depth of their attraction. In stolen moments, against the backdrop of their current circumstances, they remember the lives in which they knew one another before—when she was an Italian noblewoman and fell in love with her father's horseman, when they were struggling peasants in a war-torn country, as soldiers who rode out to battle side by side and then died minutes apart—and most powerfully, in the life in which he was a Warrior, she was his Queen. Poignant, evocative, exquisitely rendered, Warrior/Queen will call up the meetings in your own life that were more than ordinary, encounters in which for a moment or a season, you reconnected with a soul your own soul had been searching for for aeons.
• • •
Finding Los Olivos
by Joanna March Bard Newton
I was project manager on this book on behalf the non-profit Friends of the Bard Mansion. Graphics by Graphics by Erick. Available on the Blurb.com Book Store.
This book brings to you the life of a man who put his thoughts and experiences into a line-a-day diary from 1883 to 1945. Being the first grandchild, and having spent more time than my siblings with my grandparents, I was given possession of the diary by my mother, Joanna March Boyd Bard, many years ago. I have been on this project for a long time, and I am so pleased that it has finally come to fruition. I have chosen to put the story in first person, knowing this wonderful man as I did, and wanting to bring his experiences and reflections to life as I feel he lived it.
• • •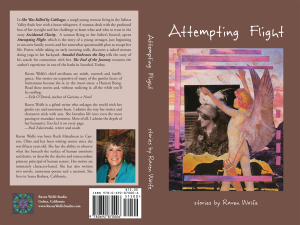 Attempting Flight
by Raven Wolfe
I produced this book. Book cover design and layout co-designed by Bo von Hohenlohe & Raven Wolfe.
Now available on CreateSpace Book Store and Amazon Books.
•In She Was Killed by Cabbages, a tough young woman living in the Salinas Valley finds love with a horse whisperer.
•A woman deals with the profound loss of her eyesight and her attempt to learn what and who to trust in the story Accidental Clarity.
•Attempting Flight begins with a woman flying to her father's funeral. It is the story of a young teenager, just beginning to uncover family secrets and her somewhat questionable attempt to escape her life.
•Porter, while taking an early morning walk, discovers a naked woman doing yoga in her backyard. Annabel Embraces the Day, tells the story of his search for connection with her.
•The End of the Journey recounts the author's experience in one of the baths in Istanbul.
• • •